FTSE rises above 7,000 as pound falls again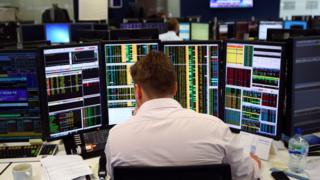 The FTSE 100 share index has risen above 7,000 for the first time since May 2015 as sterling fell to a 31-year low against the dollar.
The pound dipped to $1.2766 in early trading on Tuesday – its lowest level against the US dollar since 1985.
Sterling has fallen for the past two days as traders study the Conservative Party conference for Brexit details.
The pound fell 0.3% against the euro to €1.1431, while the FTSE 100 was up 1.2% at 7,069 points.
On Sunday, Prime Minister Theresa May said she would trigger Article 50 by the end of March 2017.
Analysts say the pound has been hit by the prospect of the UK leaving the EU single market as part of the Brexit process.
Esther Reichelt, currency strategist at Commerzbank, said the government's apparent insistence on limiting freedom of movement was causing particular uncertainty among investors.
"This increases fears of a 'hard' Brexit because so far nobody sees a possibility of achieving this without May having to accept notable restrictions when it comes to accessing the single market," she said.
Connor Campbell, analyst at traders Spreadex, saud: "It seems that it is going to be hard to provide a tourniquet for sterling's recent wounds given the solidity of the newly announced Brexit timeline."
Kathleen Brooks, research director at Forex.com and City Index, said the Tory party conference was turning into a sell for the pound given Mrs May's "apparent sanguine attitude to leaving the single market, preferring to focus on immigration and UK sovereignty rather than the economic fallout of Brexit".
She said comments by the Chancellor, Philip Hammond, in which he warned that the UK economy was heading for a "rollercoaster" ride over the coming years, had not helped.
Although sterling has lost ground, the FTSE 100 is higher because the many international companies whose shares are traded in the UK tend to benefit from a lower pound.
Profits earned abroad by multinationals such as drugs giant GlaxoSmithKline and major mining companies are worth more when converted back into sterling.
That makes a company's shares appear better value when compared with the higher profits it will make, prompting a revaluation of the stock.
Stock markets in Frankfurt and Paris are also higher on Tuesday.