Briton 'dies defusing Islamic State bomb' in Iraq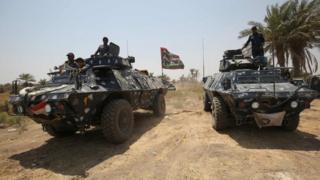 A Briton working for a US contractor in Iraq is reported to have been killed as he tried to defuse a bomb planted by the so-called Islamic State group.
Another person is said to have been wounded clearing ordnance in Ramadi, 60 miles (100km) west of Baghdad.
Iraqi forces backed by coalition air strikes retook the city from IS last December, but mine-clearing has to be completed before residents can return.
The UK embassy in Baghdad said it was aware of the death.
"The British embassy is aware that there has been a British national killed in Ramadi," it said in a statement.
According to the AFP news agency, the incident was also confirmed by the mayor of Ramadi although he did not specify the nationality of the injured contractor.
The contract for clearing thousands of devices and booby-traps left behind by IS was awarded to US contractor Janus.
The company has not yet commented on the reports.