UK VW owners seek compensation over emissions scandal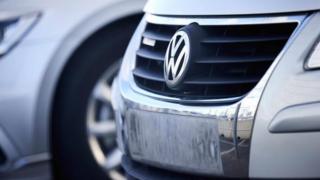 Thousands of Volkswagen owners in the UK are seeking compensation from the carmaker following the emissions rigging scandal.
Lawyers said 10,000 owners had already expressed an interest in suing VW.
They estimate owners could get "several thousand" pounds in compensation.
Lawyers, headed by the firm Harcus Sinclair, are applying for a group litigation order, similar to a US class action lawsuit, in the High Court later this month.
VW has admitted using software to cheat emissions tests leading to a recall of millions of cars worldwide.
There are 1.2 million diesel engine cars affected in the UK, including VWs, Audis, Seat and Skodas.
The legal action aims to get compensation for people who own or have previously owned one of the vehicles.
Harcus Sinclair said it was basing its estimate of the level of compensation owners could get on the €5,000 (£4,300) per owner awarded in Spain and the $8-10,000 awarded in the US.
"The key allegation is that the affected cars should not have been certified as fit for sale because it is alleged that they produced higher levels of nitrogen oxide and nitrogen dioxide emissions than the rules allowed," it said in a statement.
"It is also alleged that the affected vehicles only passed official emissions test because their engines were fitted with a 'defeat device' which reduces nitrogen oxide and nitrogen dioxide emissions under test conditions."
The firm has announced its application for a group litigation order and has called on VW owners to join the legal action.
If the High Court gives the action the go-ahead then a pre-trial hearing will follow and then the trial itself in about 18 months.