Hinkley Point: George Osborne says new deal is unchanged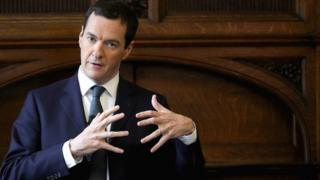 George Osborne has said the new agreement over the Hinkley nuclear plant is "pretty much" unchanged from a deal struck when he was chancellor.
The government announced that it will take a "special share" in critical infrastructure projects to stop investors selling before completion.
But Mr Osborne told the BBC's Today programme: "It looks to me pretty much the same deal."
He said he rejected a special share option during original negotiations.
Mr Osborne said he had sought advice from security experts and civil servants in energy who said it "would not add more protection" because the nuclear industry was already so heavily regulated.
He was responding to comments from Ed Davey, the Liberal Democrat MP and former energy secretary in the coalition government, who in 2013 granted planning permission for the £18bn nuclear power plant to be built at Hinkley Point in Somerset. France's EDF is investing £12bn in the project and China is funding the remaining £6bn.
Mr Davey said Mr Osborne vetoed the special share option because he was "so keen to send positive signals to the Chinese that he was prepared not to go the extra mile for national security".